July 22, 2019 | 5:30pm – 7:00pm
We invite you to join us for our next spotlight event on July 22, 2019, benefiting Denver CASA (http://denvercasa.org/). Participants will be assembling backpacks for abused and neglected children in the Denver Juvenile Court system. We can accommodate 50 participants plus parents or family members. Come be a part of a fun and amazing event!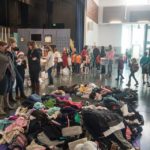 Registration is limited to 50 children and their parents or family members! Please share this information with friends who might be interested in participating.
Please help us raise funds for this event! This event is free, but we are raising funds to cover our costs for this event, which total approximately $2,500. Donations are not required to participate, but we encourage you to consider donating or work with your child to fundraise to cover this cost or more! Working with your child to identify friends and family who may want to support Denver CASA is a great way to further involve them in providing support and instilling compassion in them.