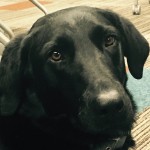 The first Kids' Compassion Project event featured Freedom Service Dogs. We had 35 kids and their parents participate in supporting this amazing organization.
Freedom Service Dogs (FSD) is a nonprofit organization that enhances the lives of people with disabilities by rescuing dogs and custom training them for individual client needs. Clients include children, veterans and active duty soldiers, and other adults. Their disabilities include Autism, Traumatic Brain Injury, Cerebral Palsy, Spinal Cord Injuries, Muscular Dystrophy, Multiple Sclerosis, and Post Traumatic Stress Disorder (PTSD).
The kids were able to interact with trained service dogs, and participate in making pull ties that are used in training these special dogs. Representatives from Freedom Services Dogs educated participants on how important their contributions are to making a difference, both in the lives of the ultimate clients as well as the rescued dogs.
The kids were able to make almost 100 rope ties, which are used in training and for assisting the dogs' owners with various household tasks.
Please check out the video below to learn more about Kids' Compassion Project and to learn more about us.
Be sure to sign up for our mailing list so you can stay up-to-date on upcoming events and how you can get involved!
For more information about Freedom Service Dogs, visit them at http://www.freedomservicedogs.org