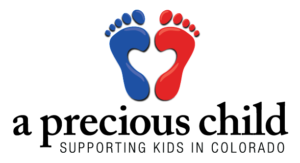 On August 20, 2016, Kids' Compassion Project hosted an event featuring A Precious Child , supporting their Fill A Backpack program .
This event filled to capacity within hours of posting and participants collected and sorted almost 1,800 pieces of clothing and over 3,000 new school supply items!
The 2016 Kids Count in Colorado Report found that 190,000 Colorado children live in poverty. Children living in poverty often lack the basic essentials critical to academic achievement. Ensuring that children are properly clothed and have the necessary supplies to participate in school can have a dramatic effect because it helps children stay in school, promotes learning, and promotes positive self-esteem.  The Fill A Backpack program at A Precious Child supplies disadvantaged and displaced children with backpacks filled with school supplies to help them be prepared to succeed in school.
Participants learned more about this amazing organization and helped us organize the thousands of donations that come in.  Admission for this event was at least one of the items off of A Precious Child's Fill A Backpack supply list.
We are very thankful for the local businesses that served as drop-off locations: SmartSpace (2373 Central Park Blvd, Suite 100 – Same building as Plum and Mici Italian). The other locations were Bladium and Clair Family Dentistry.